August 1st, 2015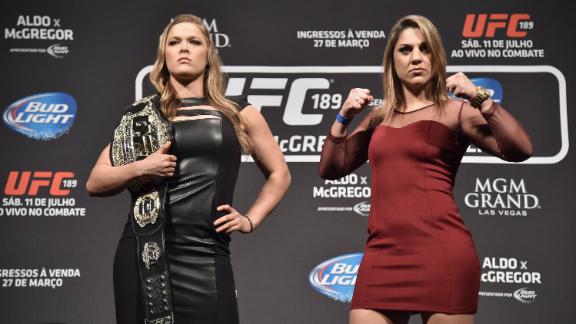 Ronday Rousey is finally going to get her hands on Bethe Correia. After months of trash talk the ladies will finally be able to settle their differences in the octagon. Rousey is a one of the biggest draws in the UFC and it's always a big deal when she competes. The pay per view is pretty expensive but luckily for all of the poor UFC fans out there there are some places to see the show online if you know where to look.
The pay per view card will feature Ronda Rousey vs. Bethe Correia for the UFC women's bantamweight title, Antonio Rogerio Nogueira vs. Mauricio Rua in the co-main event, Fernando Bruno vs. Glaico Franca, Dileno Lopes vs. Reginaldo Vieira, Antonio Rodrigo Nogueira vs. Stefan Struve, Soa Palelei vs. Antonio Silva and Jessica Aguilar vs. Claudia Gadelha in the opening bout. will open the pay per view portion of the show.
​The undercard for the show will be shown for free on UFC Fight Pass at 8 p.m. ET. They will show Clint Hester vs. Vitor Miranda and Guido Cannetti vs. Hugo Viana.
Fox Sports 1 will show Neil Magny vs. Demian Maia, Rafael Cavalcante vs. Patrick Cummins, Warlley Alves vs. Nordine Taleb, and Iuri Alcantara vs. Leandro Issa. They could also broadcast some of the fights that aired earlier on FightPass if the fights go quickly with some early knockouts or submissions. Sometimes you get to see one or two extra bouts depending on if there are some quick stoppages or not.
With this title fight featuring Rousey and Shogun Rua in the the co-main event this show will be awesome. It's rare we get to see two women who hate each other so much and they finally fight.
You can order the show on your computer by purchasing it on Apple TV or Roku. It's also available on the PS3 or PS4. The event will be shown on the UFC Network in Peru, Argentina, Mexico, and most South American countries. In Japan it will air on WoWoW. Fox South East Asia will air the show in Malaysia, China, Macau, Hong Kong, Papau New Guinea, and Singapore. BT Sport 2 will air UFC 189 in Ireland. Abu Dhabi Sports 6 will show the pay per view in Lebanon, Palestine and most every other Middle East country.
If you decide to order the pay per view there you can even watch it on smart phones such as Androids and iPhones by downloading the UFC.tv app from the app store on your device.
There are some other shady sites that have live streams on them. However, they typically go down during the fights and that always stinks while you are watching. Ordering straight from the UFC is the best way to see the event live without any interruptions.
You could go to a bar around town such as Hooters or Buffalo Wild Wings if you can find a place to sit. They usually fill up pretty quickly for big pay per views such as this one. If all else fails you can catch the highlights on Youtube or other sites such as ESPN or FoxSports.
Be sure to turn your phone off and stay off of Facebook and Twitter. When there is a big upset or vicious knockout you know your friends will be texting you about what went down in Rio.