Sunday, March 29th, 2015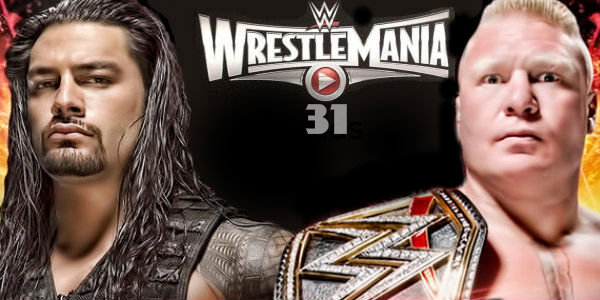 Tonight the WWE invades L.A. for Wrestlemania 31. Brock Lesnar will face Roman Reigns in the main event of the WWE Championship. The Undertaker returns to face Bray Wyatt after a year off and Sting faces Triple H.
What do you do if you are broke and can't afford the biggest show of the year? You could get out and go to a sports bar like B-Dubs or Hooters that will be showing the event and spend a your entire paycheck on chicken wings and beer or you could suck it up and shell out 50 or 60 bucks to see the show in your own living room where the beer is free. Luckily we have the internet and you can find anything online if you know just where to look.
The WWE and Vince McMahon have made it easy for you to find out where to watch it online and elsewhere and how to order it. You can go their website for all the different places it is offered. DirectTV, Dish, Comcast and just about every other provider will have it available. You can even order it on WWE.com for $54.95. It may not be on the bigscreen but it'll have to do on your laptop. You can also subscribe to the WWE Network for 10 bucks too.
Kickoff stars at 5 p.m. ET/2 p.m. PT and will feature the big battle royal and the tag team match. It will be free as long as you are a subscriber to the WWE Network. But if you have no intention of paying for the rest of the event due to the high pay per view fees there are places on line that will offer it but it will be a stream and likely not very good quality. There are some sites that will have pirated streams up but they always get taken down right away and are extremely unreliable. Another option that I use for most UFC pay per views is to wait until the next day and go watch it at someone's house who DVR'd it. Or if you want to wait just watch WWE RAW on Monday night they will quickly fill you in on what went down.
Here is the full card for Wrestlemania 31;
Brock Lesnar vs. Roman Reigns for the WWE Title
Sting vs. Triple H
Intercontinental Title Ladder Match: Bad News Barrett vs. Dolph Ziggler vs. Dean Ambrose vs. Daniel Bryan vs. Stardust vs. Luke Harper vs. R-Truth
Randy Orton vs. Seth Rollins
Bray Wyatt vs. The Undertaker
The Bella Twins vs. AJ Lee & Paige
United States Title: Rusev vs. John Cena
Kickoff show Andre the Giant Memorial Battle Royal
Kickoffshow Tag-Team Title Match: Brass Ring Club vs. The Usos vs. A New Day vs. Los Matadores
You could always hop on your private jet if your pilot is on call and head to Los Angleles if you want to see the show in person but tickets are sold out. But if you have a private plane chances are you won't mind paying high prices from a scalper for tickets to get in the show.
One more thing-stay off your phone. Social media sites will have the results so unless you want the show spoiled don't get on Facebook.