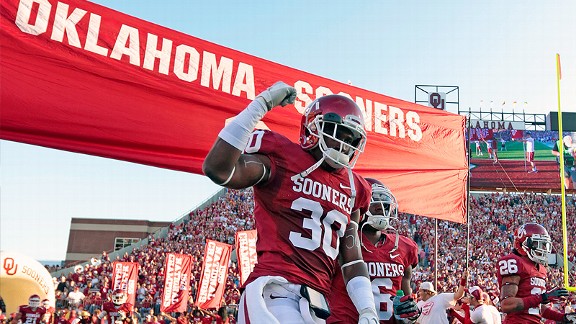 With Auburn's win in the SEC Championship game against Missouri and Ohio State's loss to Michigan State in the Big Ten Championship game Alabama will head to the Sugar Bowl in New Orleans like we reported earlier today. Now we know what the Crimson Tide will face Oklahoma on Jan. 2nd.
Oklahoma played their way into a BCS game after beating Oklahoma State yesterday. With the win it gave Baylor the Big 12 Championship and opened up a spot for them to play a BCS game against the Tide. The Sooners finished the season 10-2 with wins over Notre Dame and Oklahoma State.
Now the Sooner will get Alabama who won the National Championship last year by blowing out Notre Dame. It looked like the Tide would repeat again until they missed a field goal as time expired against Auburn that was run back for a touchdown. Had Duke beat Florida State last night Bama would've played Auburn again for the BCS Championship. You have to wonder if the team will be up for a game that isn't for a Championship after having so much success but I believe that Nick Saban will have them ready to play next month.
Tags: 2013 alabama bowl game, 2013 alabama bowl projection, 2013 bowl projections, 2013 oklahoma bowl game, 2013 oklahoma bowl projection, 2013 oklahoma sooners bowl game, 2013 sugar bowl teams, alabama 2013 bowl game, alabama football, oklahoma bowl game 2013