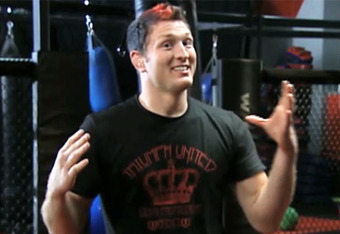 This weekend Chael Sonnen poked a little fun at Alistair Overeem for getting popped for high testosterone levels by the Nevada Athletic Commission. It is very ironic since Sonnen himself was popped for the same thing two years ago in California after his fight with Anderson Silva.
According to Jason Miller (@mayhemmiller )
Chael berating someone on their test level is like me making fun of someone's bad haircut.
Not be out done the UFC #1 middleweight contender blasted Miller and his career in return;
(@sonnench)
MayHem: Due to time constraints I am currently confining my Twitter wars to active, relevant, fighters ONLY. Buy a T-shirt on your way out.
Miller will face CB Dollaway at UFC 146 and desperately needs a win to save his spot in the UFC. Sonnen is set to face Anderson Silva for the belt at UFC 147 in Brazil. The two men actually fought back in 2002 with Sonnen coming out on top in only his second pro fight.
Tags: chael sonnen, sonnen insults, sonnen twitter, ufc