Tuesday, November 13th, 2012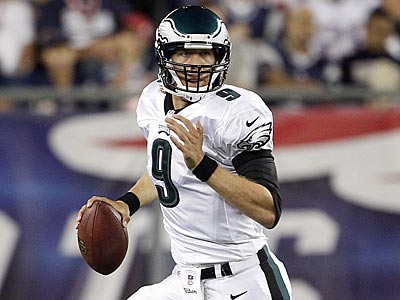 Nick Foles will get his first career start Sunday against the Washington Redskins on the road according to an ESPN report. Starting QB Michael Vick is suffering from a concussion that knocked him out of the game against Dallas on Sunday.
Foles came in against the Cowboys in relief but and passed for 219 yards and a touchdown in a losing effort. He actually had them in the game until some key turnovers cost them the game in the third quarter.
Andy Reid spoke highly of the rookie 3rd round pick from Arizona in a press conference today.
"I've got confidence that Nick will do a nice job, if given that opportunity. Listen, I get excited for every game, but if the kid has an opportunity to start, I'm excited to see him play."
Reid needs to get the team back on track pretty fast due to some lofty expectations coming into the year. Now that Vick is on the shelf and Foles is leading the team this could be the coaches last stand until the owner decides to make a change.
Foles was a star at Arizona but Philadelphia is a different animal. He might have been big man on campus and a hit with the ladies but those fans will chew him up and spit him out if he has a few bad games. Should he do well he might be the most eligible bachelor in Philly.