Friday, August 2nd, 2013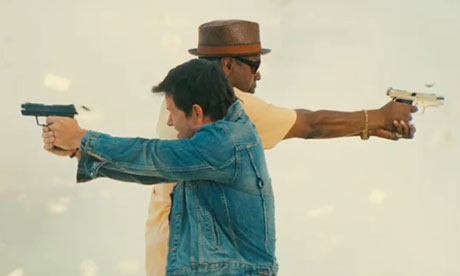 Mark Wahlberg and Denzel Washington are two of the hottest guys in Hollywood right now. What better way to make a summer blockbuster that add them together and throw in a bunch of guns and money, not mention a love interest. But with those ingredients can Washington and Marky Mark put it together? The results are in.
Washington has a nice, noirish line to his romantic interest, a cop played sexily by Paula Patton: "I really meant to love you." Hell, I really meant to at least like 2 Guns. But I couldn't. The movie just didn't make the extra effort.
Since so much of what happens in the second half of 2 Guns hinges on its bottomless grab bag of double and triple crosses, it would be cruel to reveal too much about the film's plot or the dirty motives of its arsenal of colorful heavies. All I will say is that after months of big-screen bloat and bombast, 2 Guns is a much-needed reminder that the best summer surprises can come when you least expect them.
But the sum of even those great parts winds up being just as disposable as so many of this summer's boys-and-their-toys bullpucky. Admittedly, though, "2 Guns" contains at least one great line, as one of the characters tells Patton, "I meant to love you." Funny, that's exactly how I felt about the movie.
As you can see some loved it but some also hated it. Just wait until the holidays when it comes out on Redbox or Netflix. All the summer blockbusters come out in time for Christmas and this will be no exception. It'll be out on On Demand around that time too.